The birthstone for October is Opal. Here are some of the most gorgeous Opal October birthstone necklaces. I especially love the pink opal pendants on this list. Stunning! Check them out here:
Opal and Diamond 14k Gold Necklace
$699.00
An oval Diamond and Opal pendant slides across this 14kt gold necklace. (N7974) 16" regular 895, now on sale for 699. .48 ctw of genuine white Diamonds 1.8 carat Opal (9x7mm) Weighs approx 3.5 grams Comes in a nice gift box Opal pendant measures 7/8" long x 1/2" at widest Matching opal earrings and pendant shown below
14K White Gold Oval and Pear Opal Shaped Gemstone Necklace
$660.00
We captured a rich burst of colors apt to your lovely neckline! A stunning combo of oval and pear shaped Opal gems with a column of brilliant diamonds in between. An affordable luxury with a very rich aura. this 14 karat gold necklace is a sure winner!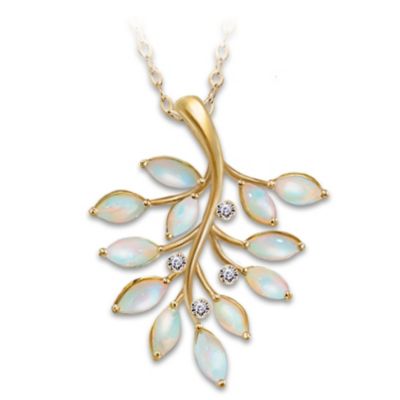 Opal Indulgence" Genuine Opals And Diamonds Pendant Necklace
$149.00
A sparkling gift of nature, the opal has been described as embodying the beauty of all precious stones. Now, you can celebrate the gift of nature with this stunning jewel in an elegant opal pendant necklace, a fine jewelry design exclusively from The Bradford Exchange. Exquisitely handcrafted in solid sterling silver, this striking pendant is richly plated in 18K gold and features genuine opals and diamonds. A branch motif with 12 genuine marquis-shaped opals form shimmering leaves on a branch while set among the "leaves" are four diamonds beautifully accenting the play of the opal's colors. For the perfect finishing touch, this radiant necklace arrives in a velvet jeweler's pouch and gift box, perfect for safekeeping or gift-giving. Strong demand is expected. Order now!
Black Hills Gold Jewelry – Black Hills 10k Opal Necklace 18 inches
$228.00
Black Hills Gold Jewelry – Black Hills 10k Opal Necklace 18 inches is available from jewelbasket. com for only $228.00. Buy now and save. Jewelbasket offers the best value on, jewelry and gifts.